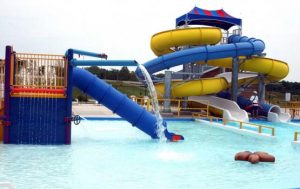 The Hannibal Aquatic Center had record attendance this summer.
According to Hannibal Parks & Recreation records, the attendance was 21,132 (up 2,261 from last year). The attendance was the highest in the last five years.
The biggest date was June 29, when 620 people went to the pool, the high temperature that day was 89.
The attendance number doesn't include swimmers in swim lessons, mermaid and shark lessons and Hannibal Hurricanes swim team practices.
Jenna McDonald, Aquatic Center director, said, "It was a really busy summer, we always know on hot days we're going to be full but there have been several hot days in a row."
The last day of the Hannibal Aquatic Center was Sunday Aug. 11. The Hannibal Aquatic Center, has 10 lifeguards on duty at all times and four front desk/concession personnel, along with a manager.
Unused punch passes may be used in the next pool season.
The Hannibal Aquatic Center will open in May, 2020.