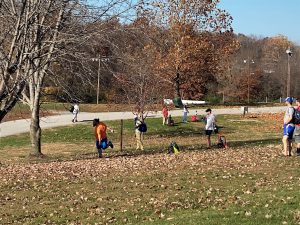 Hannibal's disc golf course was busy Saturday as a record number of participants were in the Don Crane Memorial Huck Finn Open disc golf tournament. Event organizers said 89 people were in the tournament, with the first round at Huckleberry Park in Hannibal and the second round at Flower City Park in Palmyra.
The winners were:
Open division:
Tristan Hines of Burlington, Iowa, first
Nate Heinold of Washington, Ill., second
Alan Wagner of Montrose, Iowa, third
Pro Masters 40 +
Robert Hall of Jacksonville, Ill., first
John Kister of Warrenton, second
Scott Innis of Altoona, Iowa, third
Advanced
Patrick Hoffmann of Sedalia, first
Justin Powell of Rushville, Ill., second
Josh Menne of Pekin, Ill., third
Amateur Masters 40+
Eric Dochterman of Keokuk, Iowa,first
Michael Hamby of Quincy, Ill., second
Paul Emmerich of Kirksville, third
Amateur Masters 55+
Rodney Schild of Quincy, Ill., first
Roger Beachy of Mount Pleasant, Iowa, second
Thomas Peterson of Winfield, third
Intermediate
Justin Baker of Paris, first
Garrett Rhine of Festus, second
Myles Hummel of Quincy, third
Intermediate Women
Angela Rueter of Marion, Ill., first
Debbie Polkinghorne of O'Fallon, second
Veronica Sheehan of Hannibal, Mo., third
Recreational
Rodney St. Gemme of Bonne Terre, first
Gary Polkinghorne of O'Fallon, second
Shane Powell of Monroe City, third
Recreational Women
Britany Horn of Park Hills, first
Jaimie Watkins of Hannibal, second
Sarah Rolwes of Maryland Heights, third
Novice
Caleb Scott of Hannibal, first
John Hicks of Rochester, Ill, second
Jacob Hammond of Hannibal, third
Junior
Jacob Barnes of Palmyra, first
The tournament was sponsored by Hannibal Parks & Recreation, Excitement Disc Golf,  Palmyra Parks & Recreation and General Mills.
John Shaw of Excitement Disc Golf organized the tournament. He said the nice weather was part of the reason for the high turnout. "Hannibal has a great disc golf course and it's well maintained. People really enjoy playing here."
He said tournaments bring a lot of people to town, eating at restaurants, buying supplies and gas and staying in hotels. "People came from all over to play in this tournament," he said.
He said interest in disc golf has increased due to the Covid-19 pandemic because the sport is outside and allows for social distancing between players.
Disc golf is similar to traditional golf, however, instead of using golf clubs and balls aiming for a hole, disc golf players use disc golf discs and aim for a disc golf basket which is a pole extending up from the ground with chains and a basket where the disc lands. The object of the game is to complete each hole in the fewest number of throws, starting from a tee area and finishing with the disc coming to rest in the basket.