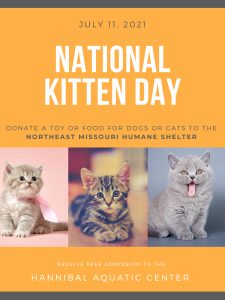 Hannibal Parks & Recreation is partnering with Northeast Missouri Humane Society to provide toys and food to homeless animals.
Sunday, July 11, the Hannibal Aquatic Center is offering free admission to children who donate a toy or food to the shelter before June 10. It is National Kitten Day but the toys and food can be for dogs as well.
Donations should be made to the Human Society facility at 2923 Warren Barrett Drive and youngsters will receive a pass to the Hannibal Aquatic Center for July 11.
Hannibal Parks & Recreation offers Sunday Funday specials at the Hannibal Aquatic Center to partner with other community organizations and offer incentives on Sundays.
The Hannibal Aquatic Center is open noon to 6 p.m. every day.