Nipper Park at Glascock's Landing
Nipper Park at Glascock's Landing was extensively renovated and reopened in 2021. The project replaced numerous infrastructure problems, constructed a new marina and boat ramp and provided docking locations for two large riverboats as well as the Mark Twain Riverboat and Canton Marine Towing. The 8-acre park features a rock wall along the river, new sidewalks, fencing, lighting, restroom, handicap accessibility, new stormwater utilities and a large green space for events.
Nipper Park includes nearly a mile of sidewalks that are handicap-accessible, along with a medallion composed of the riverfront cobblestones. More than 25 benches line the sidewalk, which were purchased through the Adopt-A-Bench program, and allows participants to remember a loved one in a serene setting.
There is a public art sculpture, titled Liberté, sculpted by Chris Wubbena. Liberté features a brushed stainless-steel structure topped by a graffiti and stenciled metal monolith with imagery representing the environment, French-inspired imagery and imagery related to family and the artist's own personal experiences. The true meaning of Liberté is meant to be interpreted by the viewer.
There is a bronze sculpture of Mark Twain that was given to the city as a gift from the J. Fred Schwartz family of East Hannibal, IL.
The statue depicts Samuel L. Clemens as a young riverboat pilot – a career he tried for several years in the mid-1800s before he went on to achieve world fame as a writer, lecturer and humorist using the pen name 'Mark Twain'.
Park Address
Nipper Park at Glascock's Landing
103 Broadway
Hannibal, MO 63401
Amenities
Acres: 8
Restrooms: Yes
BBQ Grill: No
Picnic Tables: Yes
Playground: No
Basketball Court: No
Ball Field: No
Shelters
To reserve a gazebo, pavilion or shelter house, visit the Hannibal Parks & Recreation Department at 320 Broadway or call
(573) 221-0154
.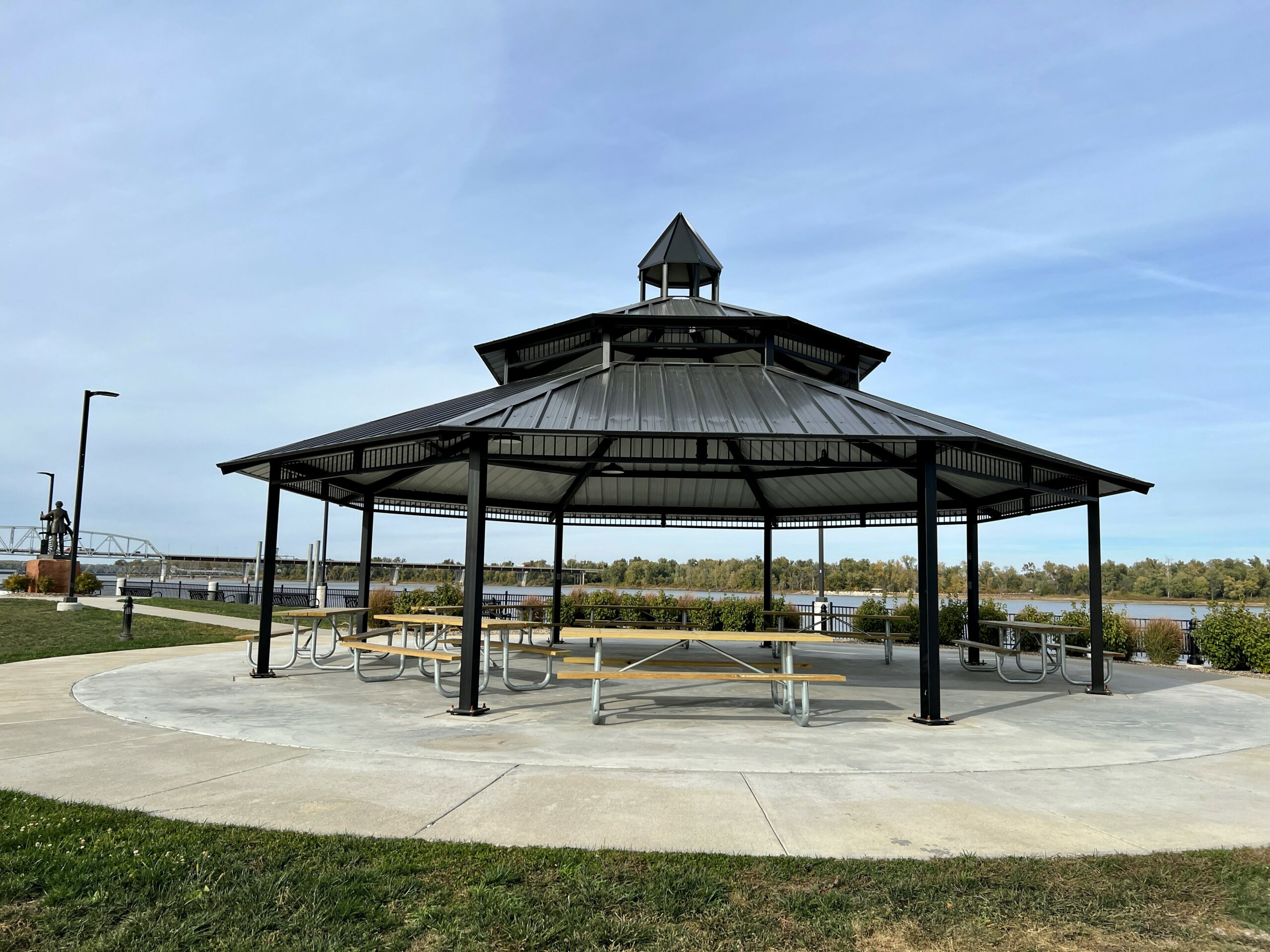 Rotary Pavilion
Dimensions: 40-foot octaon
Picnic Tables: 7
BBQ Grills: 0
Electric: Yes
Water: No
Playground: No
Restrooms: Yes
Rental Fee: $20 for 6 hours (9 am-3 pm or 4-10 pm) or $30 for all day
Scavenger Hunt
The Hannibal Parks & Recreation Department has developed Scavenger Hunts to encourage visitors to Hannibal parks. These free activities allow participants to learn more about Hannibal Parks and to earn a free treat from a local business in the process!