Admiral Coontz Recreation Center
The Admiral Coontz Recreation Center is open to the public 7:30 a.m.-5:30 p.m. Monday, Tuesday and Thursday; 12:30-5 p.m. Wednesday; and 7:30 a.m. to 5 p.m. Friday.
Note: As an abundance of caution, the Play Without Boundaries Sensory Room will stay closed.

The Admiral Coontz Recreation Center is located at 301 Warren Barrett Drive, next to Clemens Field in historic downtown Hannibal. The facility was built in 1938-9 as a WPA project. It has 15,000 sq. ft. of concrete floor space and ceiling height is 20 ft. The facility may be rented for private and public events.
The Recreation Center is closed to the public on Saturdays and Sundays.  Any changes to these hours will be posted at the Rec Center (due to special events).  Anyone under the age of 12 must be accompanied by an adult (18 years+) – no exceptions.  
It is a non-smoking facility during public use hours. This facility, also known as the old armory, houses the following:
2 full-size all-purpose basketball courts
3 full-size Pickleball Courts (if equipment is not out, ask the attendant)
2 restrooms (men's, women's & handicapped accessible downstairs)
Walking track (12 laps = 1 mile)
Kitchen (sink, 6 burner stove with oven, refrigerator, microwave oven)
Elevated performance stage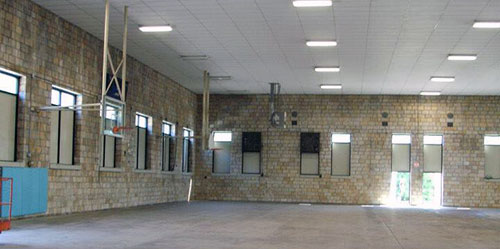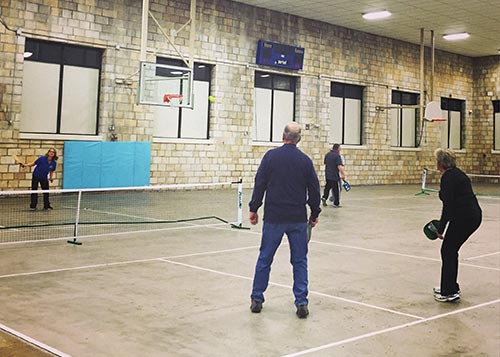 Armory rental prices are $40/hour (except for indoor sport practices). If you would like to reserve the Armory, please call the HPR office (573) 221-0154 and speak to Andy Dorian about availability (for sports practices, speak with Aron Lee). Insurance may be required for certain events. Call (573) 221-0154 to learn about other private rental options.
Rentals for indoor sport practices are $20/hour. Insurance may be required for events. Capacity = 1000 people. Call (573) 221-0154 for available dates, or check out our Armory Reservations Calendar to see what openings are currently available.
Facility Address
Admiral Coontz Recreation Center
301 Warren Barrett Dr
Hannibal, MO 63401