The Hannibal Aquatic Center opens for the season at noon May 28. The hours are noon to 6 p.m. daily.
The Aquatic Center is located off U.S. 36 at 1700 Pleasant St., near the bridge to Illinois. The phone number is 573-221-9658. It has 2 twisting slides, 1 drop slide (you must be taller than 48 inches to use all slides), 1 diving boards several water features, zero depth entry, 1 handicapped accessible lift-chair, shaded areas, picnic tables, a pavilion outside and a pool house with lockers, showers and concessions inside. HPR sells Pepsi products, candy, hot dogs, nachos, sno-cones and much more!
You must be at least 12 years old to enter alone. If you are under 12, you MUST be accompanied by someone 16 years or older. Appropriate dress will be enforced. Check at with front desk when entering for details. Capacity is 425 people.
DAILY ADMISSION PRICES
Kids 2 and under: Free
Youth (Ages 3 – 17): ($5)
Adults (Ages 18 – 54): ($6)
Seniors (Ages 55+): ($4)
10 VISIT PUNCH & SEASON PASS PRICES
10 VISIT PUNCH PASS (ALL AGES): ($30)
YOUTH SEASON PASS (AGES 3-17): ($75)
ADULT SEASON PASS (AGES 18-54): ($90)
SENIOR SEASON PASS (AGES 55+): ($55)
Pool Parties  Saturdays only (2 hours)– ($375 an additional $50 for concession stand)
The Aquatic Center closes mid-August when staff leaves for high school or leave for college. We are open 7 days/week weather permitting.
Swim lessons will be:
• Session 1 11-11:40 a.m. June 13-16 and June 20-23
• Session 2 6:10-6:50 p.m. June 13-16 and June 20-23
• Session 3 6:10-6:50 p.m. July 11-14 and July 18-21
Online registration is available at our website.
Registration deadline for the first session is June 8 but the registration will close when all 24 slots are filled. Children must be at least 4 years old to participate.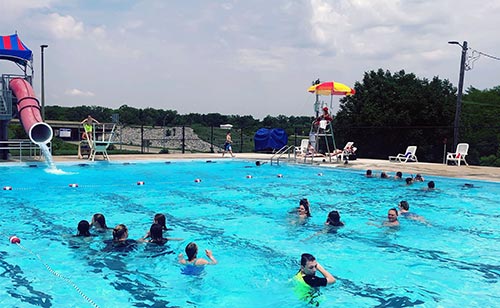 POOL HOURS
7 DAYS A WEEK:  Noon-6 p.m.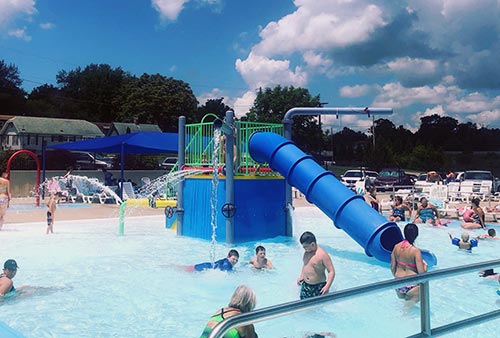 Facility Address
Aquatic Center
1700 Pleasant St
Hannibal, MO 63401