Clemens Field is located at 403 Warren Barrett Drive and was named for Samuel Clemens. First erected in 1924, the original Clemens Field facility was destroyed by fire on August 14, 1936. The replacement stadium was built as a Works Project Administration project in 1936-38. The park is listed on the National Register of Historic Places.  The park has a limestone wall around the entire perimeter and a grandstand behind home plate.
Clemens Field tenants include the Hannibal Citizens (1955); Hannibal Cardinals (1953–1954); Hannibal Stags (1952) and Hannibal Pilots (1947–48) of the Mississippi–Ohio Valley League (1952–1955) and Central Association (1947–1948), the two leagues that simply changed names and were the direct predecessors of the Midwest League.[7] Hannibal teams were affiliates of the St. Louis Cardinals (1953–1954) and St. Louis Browns (1947).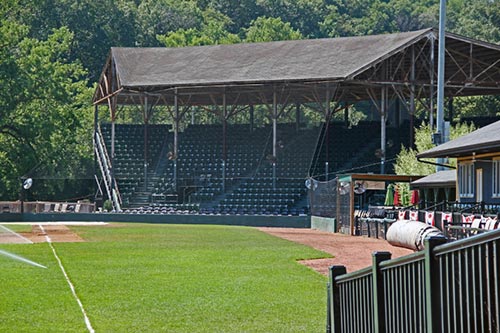 In 1944 the stadium was used as a German prisoner-of-war camp. The 200 POW's lived in tents, were surrounded by barbed wire and sorted military shoes for repair and reuse. Clemens Field was used infrequently after minor league baseball left Hannibal in 1955. In 2008, Clemens Field received a $3.3 million renovation that preserved the original grandstand and brick wall perimeter, adding 2,500 seats and modern amenities. The collegiate league team Hannibal Cavemen played at the field 2008-2016.
In 2016, a new gate was added for entrance to the ballpark. Called the Jake Beckley .308 Gate, the gate was named after the Baseball Hall of Fame early baseball player, Jake Beckley, who was a Hannibal player and native.  Beckley, called "Eagle Eye'' for his batting proficiency, finished his big league career with 2,934 hits, 1,578 RBI, 1,602 runs and a .308 batting average.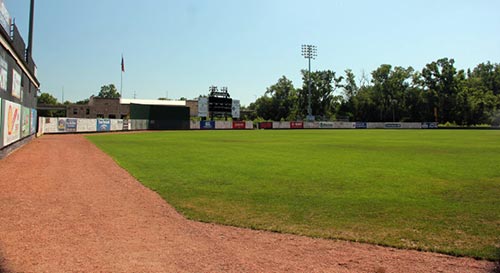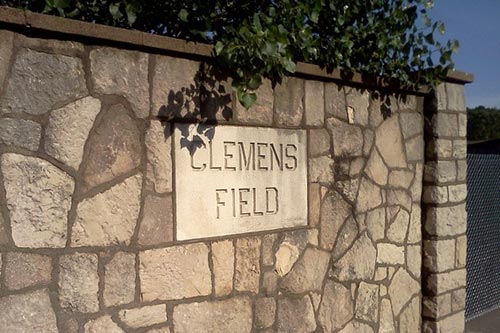 Facility Address
Clemens Field
403 Warren Barrett Drive
Hannibal, MO 63401