Mark Twain Memorial Lighthouse
The Mark Twain Memorial Lighthouse sits on 10 acres of park atop Cardiff Hill, a favorite play area of Tom Sawyer, Huckleberry Finn, and the gang.  Cross streets are E. Rock and E. Cardiff.  Parking is available near the top.  There is also a rear entrance from Cardiff Hill Drive, offering handicapped accessible parking.  There are 244 steps leading uphill to the Lighthouse from the north end of Main Street in historic downtown Hannibal.  The area around the Lighthouse offers a panoramic view of Hannibal and the Mississippi River. Please note that the public is not allowed inside the Lighthouse.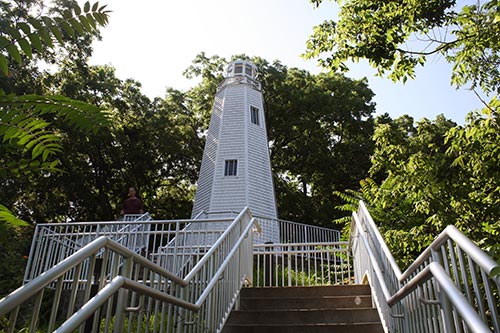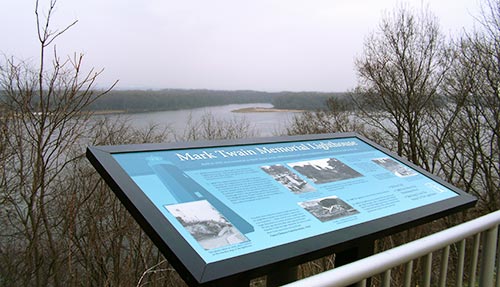 A new sign/storyboard about the history of the Mark Twain Memorial Lighthouse has been installed on the river side of the lighthouse.  The lighthouse, built in 1935 as a memorial to Mark Twain on his 100th birthday, is the second to be built at that site. The storyboard tells the history of the lighthouse and has photos of the lighthouse through the years, including the remains of the lighthouse in 1960 when it was leveled by a windstorm. It was rebuilt in 1963. The lighthouse and its stairs have changed over the years, with the relocation of the Mark Twain Memorial Bridge making it more accessible to visitors. Information and photos for the sign were provided by Steve Chou, the Mark Twain Boyhood Home & Museum, the Hannibal History Museum and The Hannibal Courier-Post.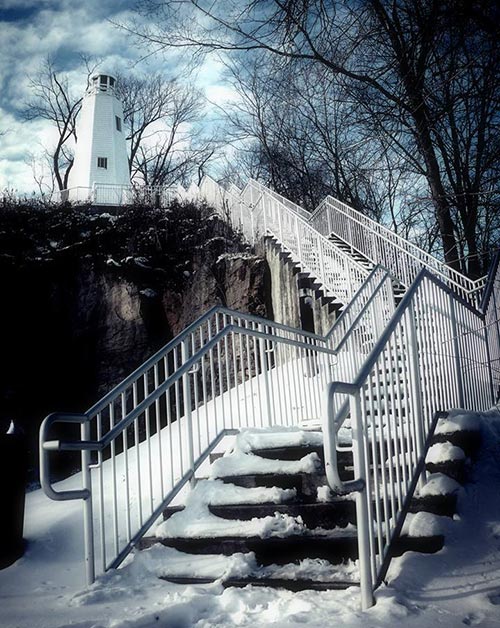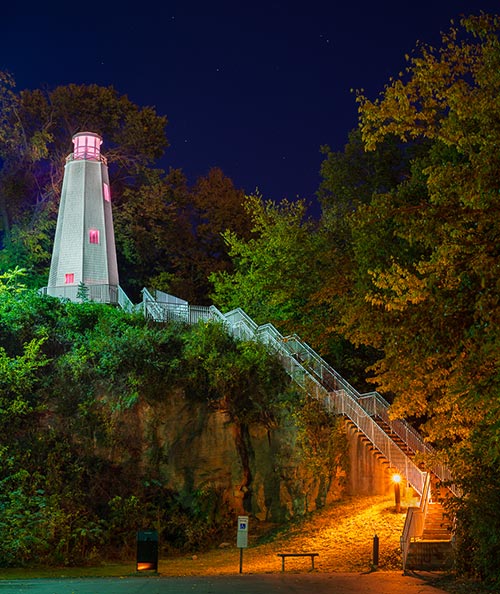 Park Address
Mark Twain Memorial Lighthouse
499 Main St
Hannibal, MO 63401
Amenities
Acres: 10
Restrooms: No
BBQ Grill: No
Picnic Tables: No
Playground: No
Basketball Court: No
Ball Field: No
Scavenger Hunt
The Hannibal Parks & Recreation Department has developed Scavenger Hunts to encourage visitors to Hannibal parks. These free activities allow participants to learn more about Hannibal Parks and to earn a free treat from a local business in the process!