Nipper Park is located at the end of Broadway, past Main Street and next to Nipper Marina at the Mississippi River. It was funded with the help of Marion County Health Department & Home Health Agency, and Hannibal Rotary Club. This 1 acre park offers a concrete walkway (6 laps = 1 mile), benches, purple martin houses and a fountain. The transom of retired naval ship, the USS Coontz, was dedicated here March 31, 2007. Admiral Coontz was from Hannibal.
Nipper Park cannot be reserved – it is available on a first come, first serve basis.
Nipper Park and Marina are currently under construction. Below is an artists rendering of what the new park and marina will look like when complete.
Video of the Nipper Park Scavenger Hunt – courtesy of KHQA TV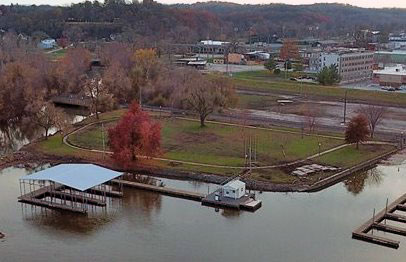 Park Address
Nipper Park
100 Broadway
Hannibal, MO 63401
Amenities
Acres: 1
Restrooms: No
BBQ Grill: No
Picnic Tables: No
Playground: No
Basketball Court: No
Ball Field: No
Scavenger Hunt
The Hannibal Parks & Recreation Department has developed Scavenger Hunts to encourage visitors to Hannibal parks. These free activities allow participants to learn more about Hannibal Parks and to earn a free treat from a local business in the process!