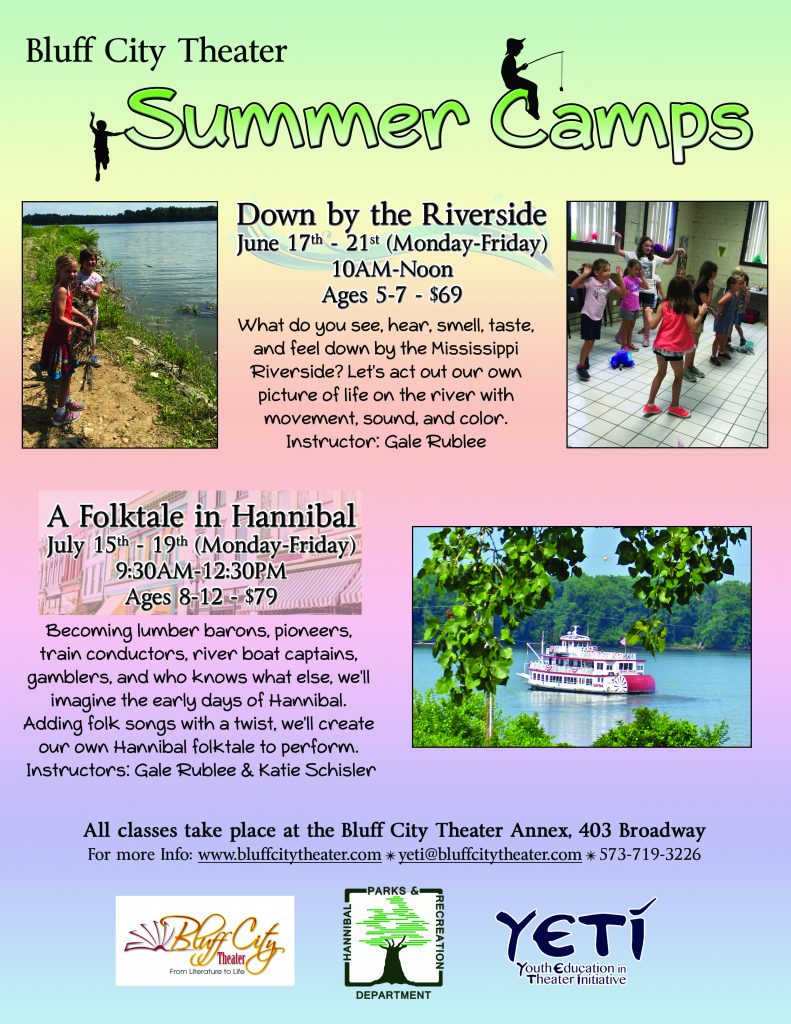 Summer Camp is being offered by Hannibal Parks & Recreation and Bluff City Theater this summer.
There are two sessions:
Down by the Riverside (for ages 5-7) 10 a.m. to noon Monday through Friday June 17-21 (Participants will discover what they see, hear, smell taste and feel by the Mississippi and will act out the picture of life on the river with movement sound and color, ) instructor will be Gale Rublee, $69 per child
A Folktale in Hannibal (for ages 8-12) 9:30 a.m. to 12:30 p.m. Monday through Friday July 15-19 (Participants will imagine the early days of Hannibal, including being a lumber baron, pioneer, train conductor and riverboat captain, adding folk songs with a twist and will create their own Hannibal folktale to perform,) instructors will be Rublee and Katie Schisler, $79 per child.
Participation is limited and each child must be pre-registered. All classes take place at Bluff City Theater Annex, 403 Broadway.
The camps will be directed by Gale Rublee, who has a bachelor's in fine arts degree in theater from Stephens College and spent time in Hollywood pursing an acting career. She returned to St. Louis where she became a professional storyteller and teaching artist. She volunteered as a Teacher-Naturalist for school groups at the Missouri Botanical Garden's Shaw Nature Reserve for 13 years and completed a Master Naturalist certification in 2015. Having moved to Hannibal three years ago, Gale is now the youth coordinator and acting teacher for Bluff City Theater's Academy and YETI (Youth Education Theater Initiative) program.
Contact Rublee at yeti@bluffcitytheater.com or call Bluff City Theater at 573-719-3226 for more information on these camps.